 
3M ATG Adhesive Transfer Tape 904, 6 MM (48 role)
3M ATG Adhesive Transfer Tape 904, 6 mm is a universal double transfer adhesive tape with instant grip and high shear force. It is suitable for generic joints and support where high adhesion and long-lasting bonding are required.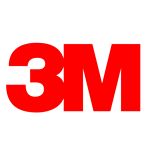 Caracterisici
S/N

YP208051877

Lenght

44 m

Width

6 mm

Tape Thickness

0.05 mm

Liner Type

white siliconised paper

Adhesive Type

acrylic adhesive

Tape Color

clear
---
Descriere
3M ATG Adhesive Transfer Tape 904 is a general purpose acrylic transfer tape on white paper with good temperature resistance.
To achieve maximum performance, surfaces must be clean, dry and well unified. Typical cleaning solutions are isopropyl alcohol, water or heptane.
The ideal application temperature should be between + 20 ° C and + 40 ° C. Initial application at temperatures below + 10 ° C is not recommended because the adhesive becomes firm and no longer adheres. Once applied, the adhesive tape maintains its performance even at low temperatures.
---
Fisiere atasate